Delight in Georgia's countryside, where magic flourishes.
As you drive down the peaceful country road, you'll find yourself enchanted by the timeless beauty of The Farley Estate, nestled in the idyllic countryside of Georgia. The property boasts a stunning lake and a charming white gazebo, surrounded by towering old trees that add a touch of grandeur to the landscape.
Vibrant flowers and manicured grounds set the stage for an enchanting experience. Step inside the venue's 5000 sq ft of space, where glass bi-folding doors open to a pool terrace. A wraparound porch invites romantic strolls, while hardwood floors and southern charm complete the ambiance.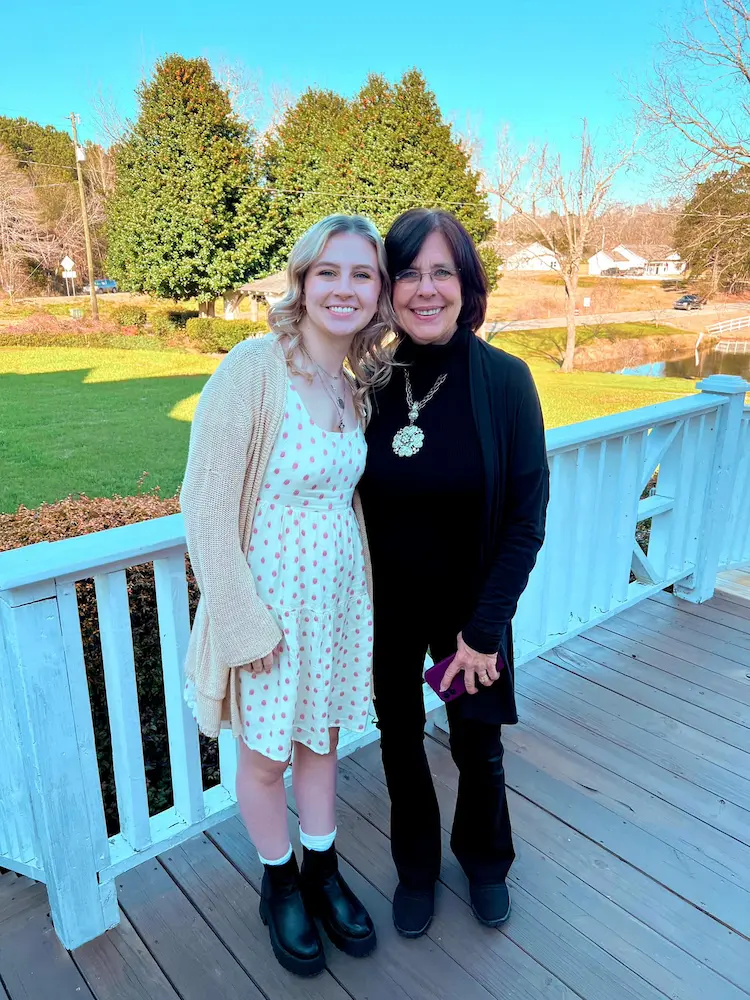 Renee with her daughter, Ally at The Farley Estate.
For over 14 years, Renee has been dedicated to hosting unforgettable weddings and creating cherished memories. Her wealth of experience and passion shine through in every detail, ensuring that your special day is extraordinary. With her personal touch and warm hospitality, she strives to make your wedding a truly remarkable occasion.
Assisting Renee is Veronica, a highly experienced coordinator who has been integral to The Farley Estate for over 12 years. Veronica's expertise and attention to detail are unmatched, as she effortlessly manages and orchestrates each aspect of your wedding day. Her presence guarantees a seamless and stress-free experience, fully immersing you in the joyous celebration.
Throughout the years, countless couples have raved about the beauty of The Farley Estate, the exceptional service provided, and the meticulous attention to detail. We cordially invite you to experience the magic of The Farley Estate for yourself as you embark on a journey of love and create memories that will be cherished for a lifetime.
"By far the best value in wedding venues in and around Atlanta. "
"We shopped wedding venues for weeks before making a decision. The day I visited the Farley Estates and met with Renee, I knew this would be the place we'd get married. Our wedding day turned out better than I had imagined it. The amount of work and flexibility was unparalleled compared to any other venue we visited."
-Juliane
If this sounds like your dream team, take the next step.
Start planning your dream wedding with ease. Our expert team takes care of every detail so you can focus on your special day.
Contact us to check availability, ask questions, and schedule a tour. Experience the magic of The Farley Estate firsthand.