Congratulations on your engagement! If you're dreaming of a romantic lake wedding venue in Georgia, you've gone to the right spot. From serene lakeside ceremonies to breathtaking mountain views, each venue on our list exudes charm and elegance. Join us on this inspiring journey as we unveil the hidden gems that will set the stage for your unforgettable celebration. Let these picturesque venues become the backdrop for your love story, creating memories that will last a lifetime. Get ready to be captivated and find your perfect lakeside wedding venue in Georgia.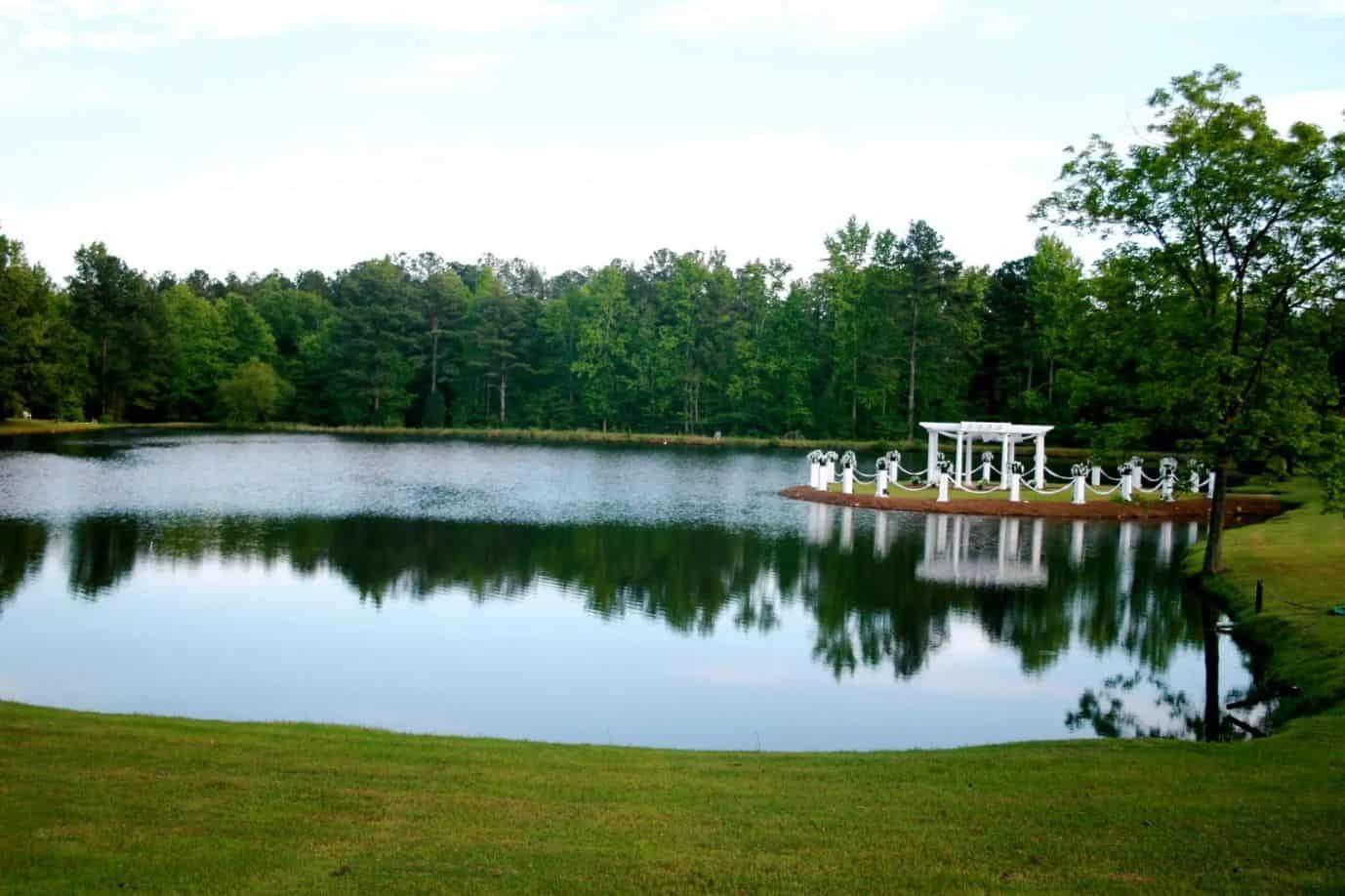 Gorgeous Lake Wedding Venues in Georgia
Let the natural beauty of Georgia's lake wedding venues set the stage for your unforgettable love story.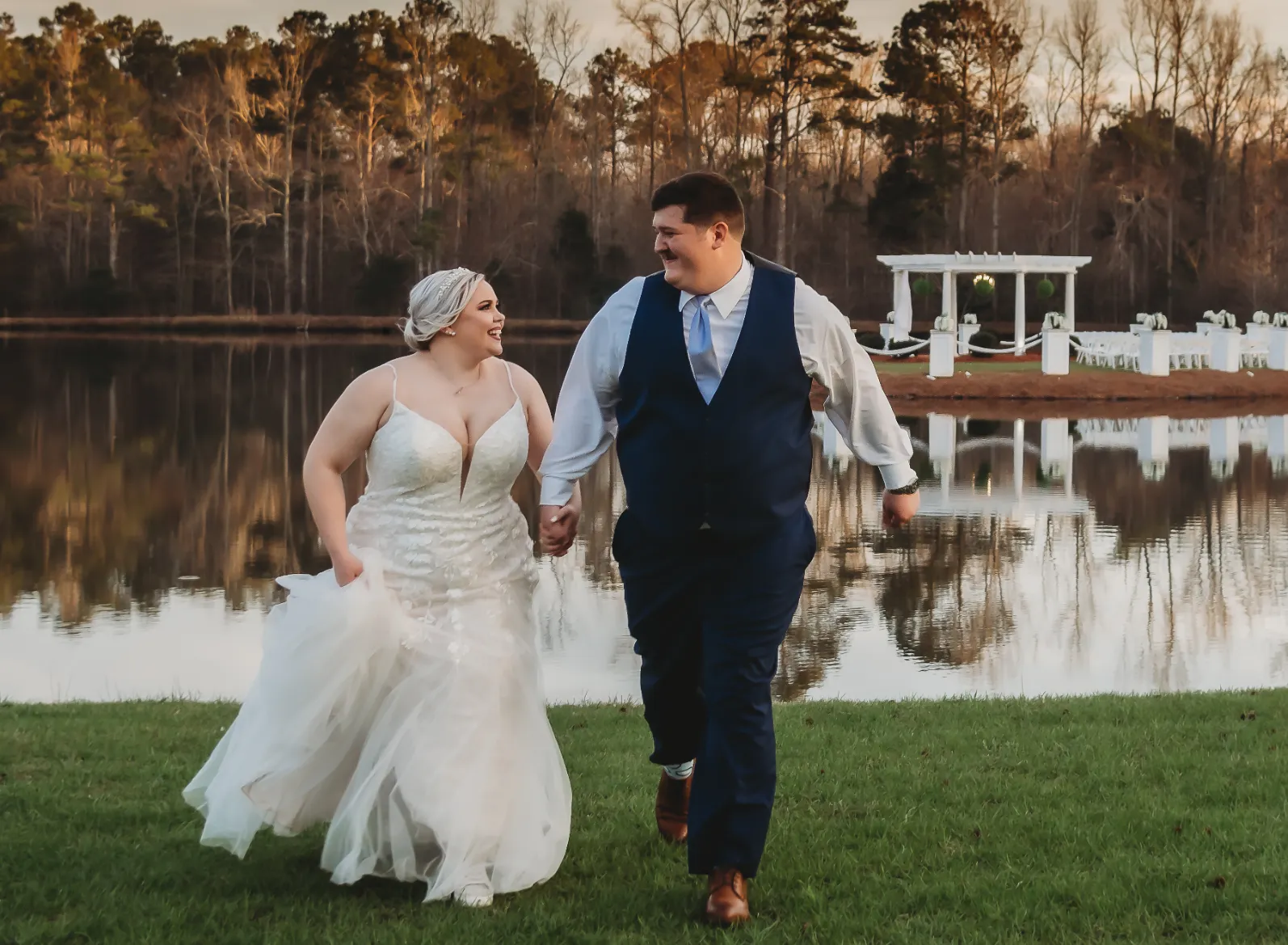 1. The Farley Estate: Lakeside Gazebo Ceremony
Address: 107 Highfalls Park Rd, Milner, GA 30257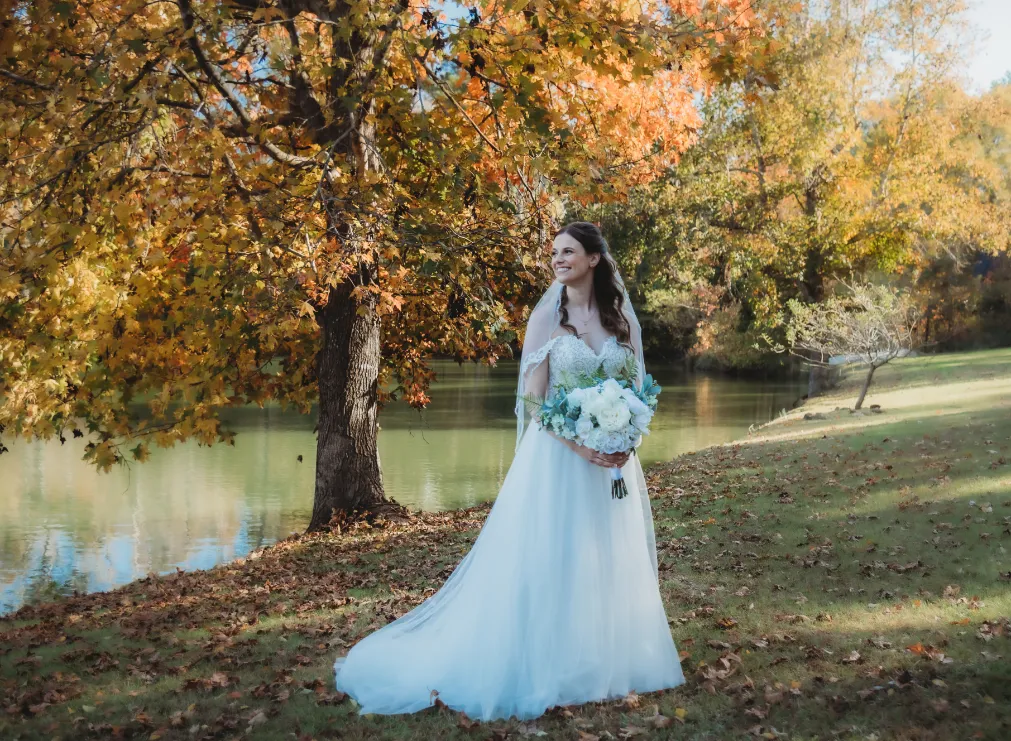 Discover the enchanting beauty of The Farley Estate, an affordable and all-inclusive wedding venue that will leave you mesmerized. Nestled amidst tall trees and sprawling gardens, our picturesque 6-acre lake sets the stage for a truly magical celebration. Say your vows under the charming gazebo, surrounded by the serene waters and the embrace of nature. With our dedicated team and exceptional catering services, every detail of your special day is carefully crafted to perfection. Experience the joy of working with us as we bring your dream wedding to life, creating unforgettable memories in a setting that exudes elegance and tranquility.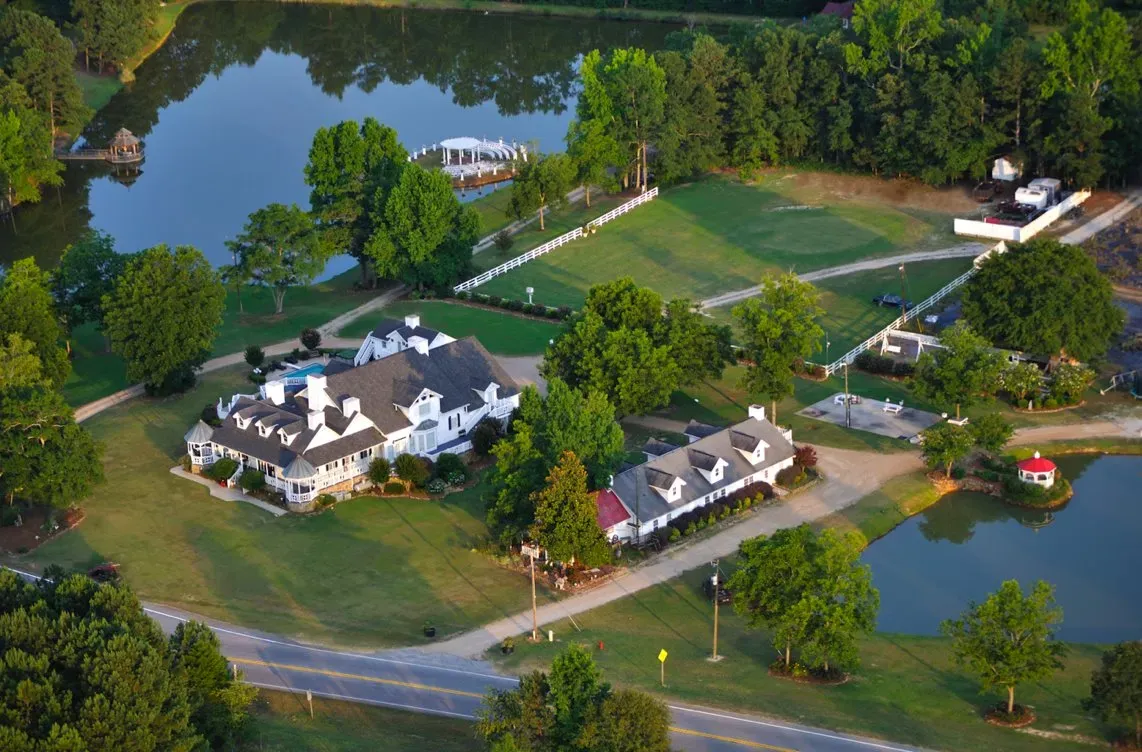 | | |
| --- | --- |
| What's Included in Our Pricing | Highlights |
| Venue | – Picturesque ceremony on a peninsula by a stunning 6-acre lake |
| | – Flexible indoor/outdoor reception space |
| | – Exclusive use of the property from 10 AM – 11 PM |
| | – Engagement or bridal photo shoot on the property |
| Planning | – Unlimited planning meetings with our in-house director |
| | – Director's presence for rehearsal and on the wedding day |
| Getting | – Dedicated Bridal Suite and Groom's Suite |
| Ready | – Convenient storage closets for dresses and tuxedos |
| | – Complimentary drinks and snacks in dressing rooms |
| | – Playroom for kids with TV and DVD player |
| Ceremony | – In-house DJ services for perfect ambiance |
| | – Elegant ceremony seating with draped decorations |
| | – Chandelier and lighting for enchanting atmosphere |
| | – Breathtaking backdrop with lush ferns and columns |
| | – Attentive parking attendants and golf cart services |
| Reception | – In-house catering with customizable menus |
| | – In-house DJ services for lively and unforgettable reception |
| | – Stylish dining with round tables and various linen colors |
| | – Exquisite centerpieces and sweetheart table |
| | – White Chiavari chairs for style and comfort |
| | – BYOB option with a well-stocked bar area |
| | – Dedicated cake tables and gift table |
| | – Additional tables for personalization |
| | – Complimentary cake cutting service |
| | – Swimming pool for relaxation and enjoyment |
| | – Set up and clean up services provided |
| Additional | – Decorative gift card collection options |
| Items | – Easels, vintage/rustic crates, and wagon for added charm |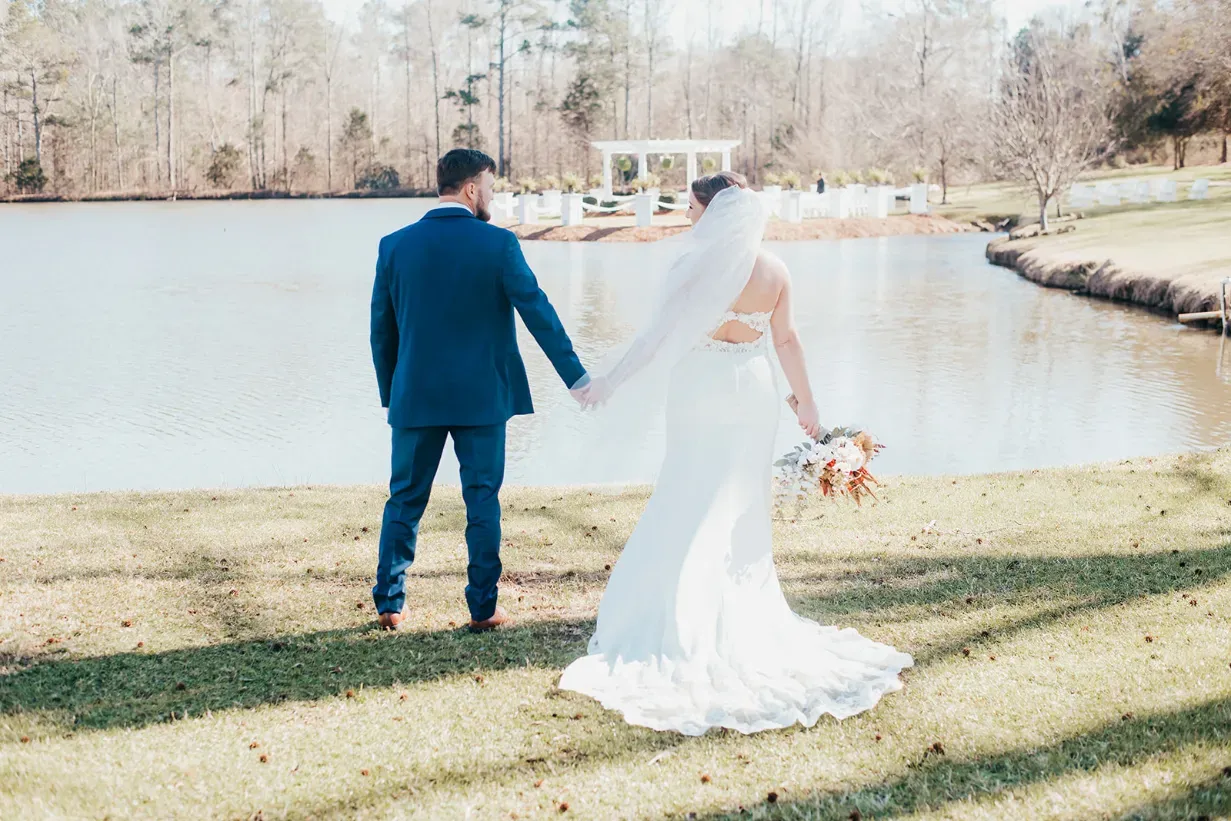 Breathe easy, and let us create a wedding experience beyond your dreams at The Farley Estate. Contact us today to begin your journey toward an unforgettable celebration of love.
2. The Venue at Sharp Mountain | Jasper, GA
Experience the extraordinary beauty of The Venue at Sharp Mountain in Jasper, GA. This exquisite mountain wedding venue offers stunning waterfront and lakeside settings surrounded by nature's abundant beauty.
Stunning Waterfront Setting: Exchange vows and celebrate your love story amidst a serene ambiance, with a beautiful lake and lush greenery as your backdrop.
Spacious Lodge: Accommodate up to 375 guests in the lodge, featuring soaring ceilings, exposed beams, and wrought-iron chandeliers, creating an elegant and rustic atmosphere.
Panoramic Mountain Views: Enjoy breathtaking vistas of the Blue Ridge Mountains through the lodge's multi-story glass wall, adding grandeur and natural beauty to your wedding.
Thoughtful Amenities: Indulge in luxurious bridal and groom's suites, relax on the expansive porch, gather around the outdoor firepit, and make use of farm tables, an adult bar, dance floor, and more.
Unforgettable Memories: Create cherished memories in a unique and memorable location that combines natural beauty, elegant spaces, and thoughtful amenities for an unforgettable wedding journey.
Experience the magic of The Venue at Sharp Mountain, where love, joy, and breathtaking views come together to create an enchanting atmosphere for your special day.
3. The Wheeler House | Ball Ground, GA
Introducing The Wheeler House, an enchanting venue in Ball Ground, Georgia, perfect for intimate weddings.
Highlights:
Elegant Mansion: The restored 1906 mansion offers a grand ballroom and timeless Southern charm, creating a memorable wedding experience.
Stunning Outdoor Spaces: Say your vows under ancient oak trees on the outdoor patio and arbor, adorned with chandeliers and drapery for a romantic ambiance.
Captivating Photo Opportunities: Majestic oak trees over 100 years old provide a captivating backdrop for cherished wedding photos.
Rustic Barn: Experience rustic charm in the barn, featuring reclaimed lumber, a dance floor, and a cozy fireplace, ideal for indoor receptions.
Unique Amenities: Enjoy a bridal suite with an original clawfoot tub, a groom's barn suite with a TV, and additional amenities like a firepit, pavilion, and billiards.
Capacity and Versatility: Accommodating up to 300 guests, the venue offers versatile indoor and outdoor spaces for seamless transitions between ceremony and reception. Embrace the enchanting atmosphere of The Wheeler House, where Southern charm meets timeless elegance, for a wedding that radiates with allure.
4. The Clubhouse at Lake Sconti | Big Canoe, GA
Experience the serene lake view at The Clubhouse at Lake Sconti, a picturesque wedding venue in North Georgia. Highlights include:
Serene Lake View: Enjoy breathtaking views of the shimmering lake, providing a picturesque backdrop for your wedding.
Intimate and Exclusive: With a capacity of up to 200 guests, enjoy an intimate and exclusive celebration, creating lifelong memories with your loved ones.
Charming Indoor Spaces: Dance on hardwood floors and gather around a floor-to-ceiling stone fireplace, elevating the ambiance of your wedding.
Scenic Views: Take in the beauty of the Blue Ridge Mountains and championship golf course through large picture windows.
Covered Outdoor Spaces: Relax outdoors while being sheltered from the elements, surrounded by natural beauty.
Golf Course Ceremony Option: Exchange vows on the golf lawn, adding elegance and uniqueness to your ceremony.
Convenient Amenities: Benefit from a bridal suite, groom's suite, shuttle/valet service, wedding coordinator, and more for a seamless celebration. Discover the magic of The Clubhouse at Lake Sconti, where breathtaking views, elegant spaces, and impeccable amenities combine to create an exceptional wedding venue.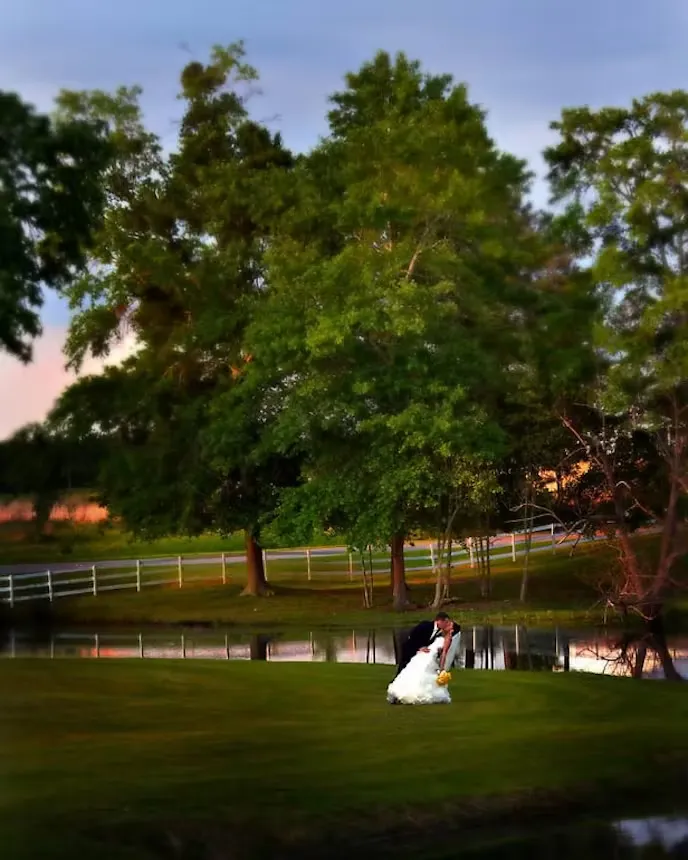 Here are a few more popular options for waterfront weddings.
Lakefront Venues: Georgia is home to numerous picturesque lakes, such as Lake Lanier, Lake Oconee, and Lake Hartwell. These lakeside venues provide a serene and romantic backdrop for waterfront weddings, with breathtaking views of the water and surrounding landscapes.
Riverfront Venues: Georgia is blessed with beautiful rivers like the Chattahoochee River and Savannah River. Riverfront wedding venues offer a unique charm, with tranquil waters and lush riverbanks, creating an idyllic setting for couples seeking a natural and romantic ambiance.
Coastal Venues: Along Georgia's coastline, you'll find exquisite wedding venues near the Atlantic Ocean. Coastal venues offer sandy beaches, sweeping ocean views, and stunning sunsets, making them perfect for couples dreaming of a beachfront or nautical-themed wedding.
Creek or Brookside Venues: Georgia is known for its abundance of creeks and brooks, which provide enchanting settings for intimate waterfront weddings. These venues often feature gentle flowing water, lush vegetation, and a tranquil atmosphere, creating a romantic and secluded ambiance.
Pond or Garden Venues: In addition to larger bodies of water, Georgia is dotted with charming ponds and gardens that can serve as enchanting settings for waterfront weddings. These venues often boast manicured lawns, vibrant flowers, and peaceful ponds, offering a serene and intimate atmosphere.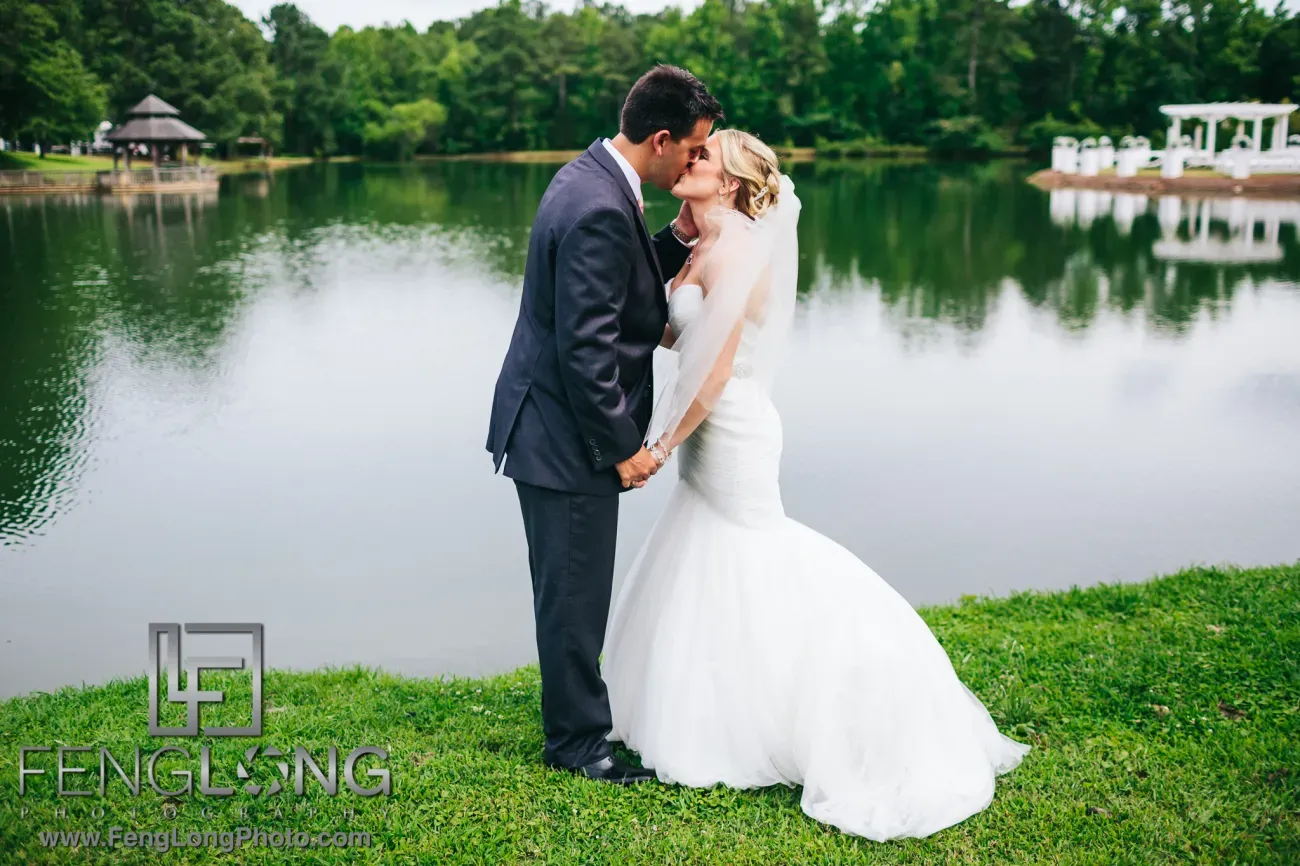 What are the most popular lake wedding venues in Georgia?
Georgia offers several popular wedding venues with lakes that provide stunning backdrops for couples' special day. Here are some of the most sought-after options:
The Lake House at Avondale Estates
Experience the allure of history in a picturesque lakeside setting for your special event. The affordable venue is perfect for weddings, receptions, rehearsal dinners, showers, parties, corporate events, and more. You have the flexibility to create your desired atmosphere with both indoor and outdoor spaces. Enjoy the freedom to choose your caterer and vendors, ensuring a personalized and memorable experience.
Lake Lanier Islands: Lakefront Chapel
Located on the picturesque Lake Lanier, this resort offers multiple waterfront wedding venues, including elegant ballrooms, outdoor pavilions, and scenic lakeside settings. With breathtaking views and a variety of amenities, Lake Lanier Islands is a top choice for couples seeking a lakefront wedding experience.
The Ritz-Carlton Reynolds, Lake Oconee
Situated on the shores of Lake Oconee, this luxury resort offers a range of indoor and outdoor wedding venues, including beautiful lakeside lawns, elegant ballrooms, and a lakeside pavilion. The stunning lake views and upscale amenities make it a popular choice for couples looking for a sophisticated lakefront wedding venue.
The Venue at Murphy Lane
Nestled on a private lake in Newnan, Georgia, The Venue at Murphy Lane offers a rustic and romantic setting for lakeside weddings. The picturesque lake, lush gardens, and charming barn provide a scenic backdrop for outdoor ceremonies and receptions, making it a favorite among couples seeking a serene and natural atmosphere.
The Lodge on Lake Oconee
With its waterfront location on Lake Oconee, The Lodge offers a range of indoor and outdoor venues for weddings. From lakeside gazebos to spacious ballrooms, couples can choose the perfect setting to exchange their vows and celebrate their special day while enjoying the beauty of the lake.
Lake Rabun Hotel & Restaurant
Located in the scenic mountains of North Georgia, Lake Rabun Hotel & Restaurant offers a historic lakeside setting for weddings. With its rustic charm and stunning lake views, this venue is popular for couples seeking a cozy, intimate lakeside wedding experience.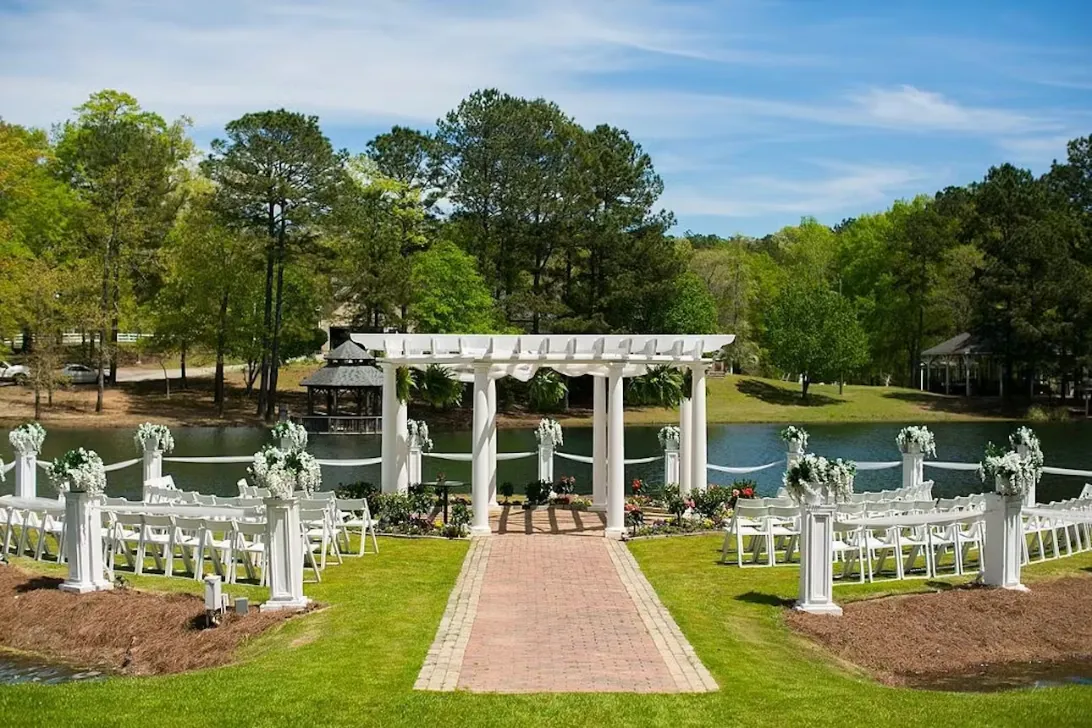 Fun Facts About Lakeside and Coastal Wedding Venues in Georgia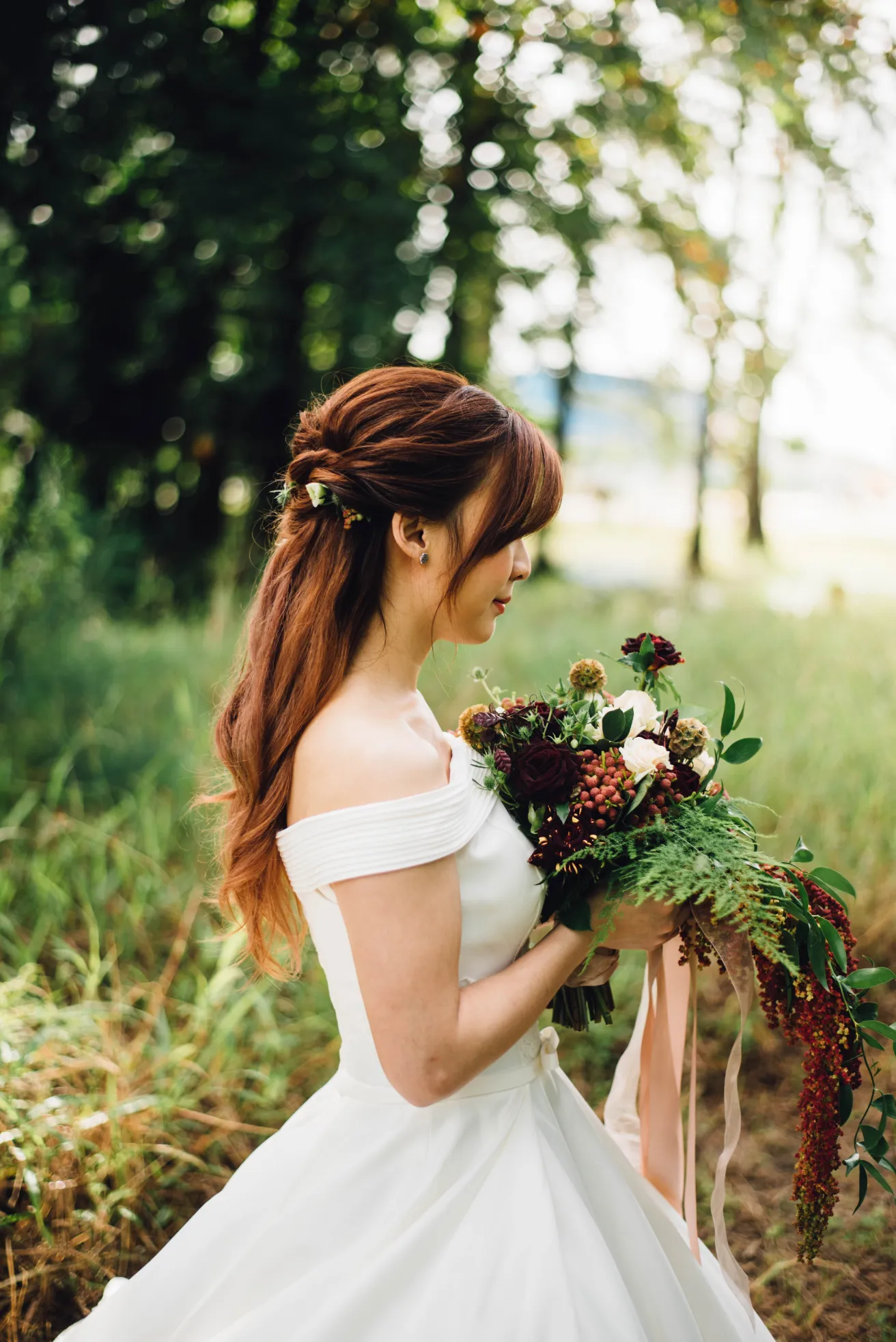 Are there any venues on the river in Georgia?
The Rivershack in Savannah, GA: This charming venue is situated along the Savannah River, offering breathtaking views and a historic Southern ambiance.
River's Edge at the Chattahoochee Nature Center in Roswell, GA: Nestled on the banks of the Chattahoochee River, this venue combines natural beauty with modern amenities, providing a serene and picturesque setting for your wedding.
The Venue at Tryphena's Garden in Fort Valley, GA: This riverside venue features a beautiful garden and overlooks the majestic Flint River, offering a serene and intimate atmosphere for your special day.
The Mill Kitchen and Bar in Roswell, GA: Located next to Vickery Creek, this venue combines rustic charm with contemporary elegance, providing a stunning riverside setting for your wedding celebration.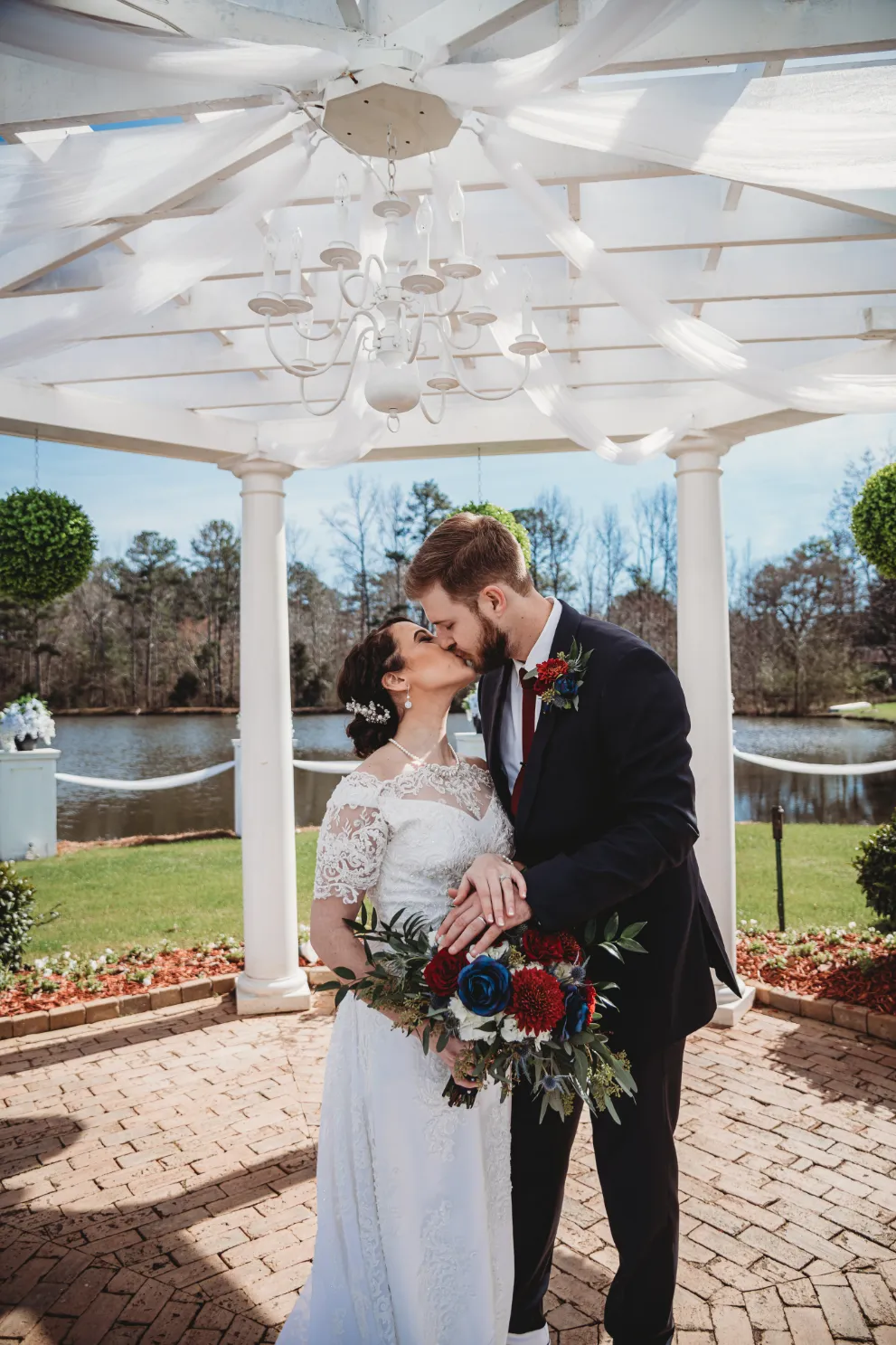 Good luck finding your perfect waterfront wedding venues in Georgia
Wishing you the best of luck in your search for the perfect waterfront wedding venue in Georgia. May you discover a stunning location that captures your heart and provides a breathtaking backdrop for your special day. Happy wedding planning!