Step into the enchanting world of wedding venues in Macon GA, where love and celebration merge with timeless beauty and captivating backdrops. In this picturesque city nestled in the heart of Georgia, couples are spoiled for choice when finding their dream wedding venue. Macon offers a treasure trove of unforgettable settings, from grand estates exuding old-world charm to lush gardens blooming with vibrant colors.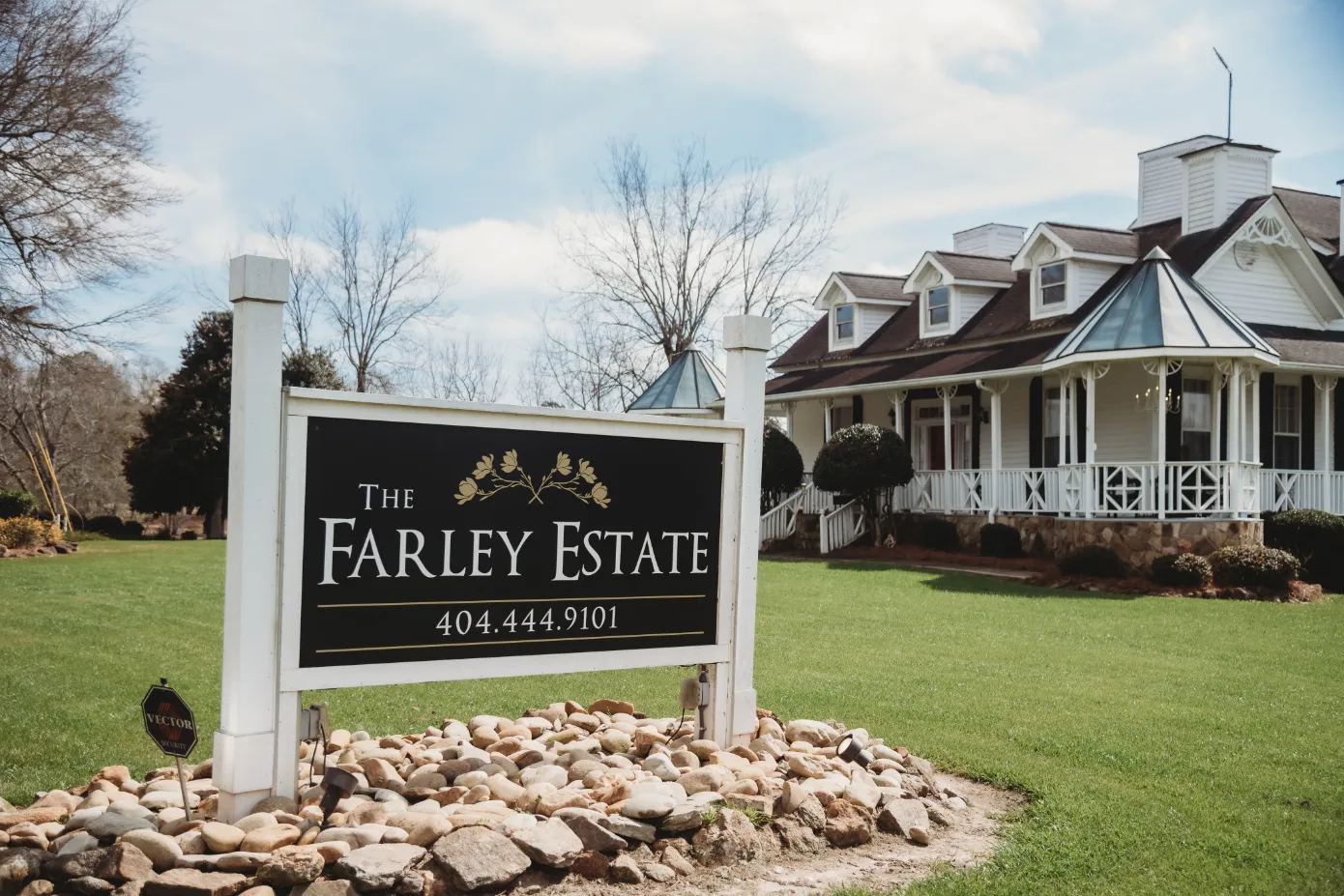 Our Top-Rated Stunning Wedding Venues in Macon GA
Join us on a journey as we unveil the 12 best wedding venues in Macon, where love stories are woven into the very fabric of these extraordinary spaces. Get ready to be swept away by the allure, elegance, and sheer magic that awaits you at these remarkable locations. Let your imagination soar, and your dreams come to life as we unveil the most captivating venues Macon offers. Kicking off our lists, our wedding venue, The Farley Estate.
1. The Farley Estate
The Farley Estate is a stunning wedding venue in Milner, just 30 minutes outside Macon in, Georgia. The property boasts elegant grounds with Southern charm, including a 6-acre lake, gazebo, and a magnificent manor with 5000 square feet of venue space. The mansion features 32 feet glass bi-folding doors that open onto a 1,500 square-foot terrace with a pool and fountain. The venue offers wedding time options from sunrise to sunset and allows access to the grounds for the entire day of your wedding.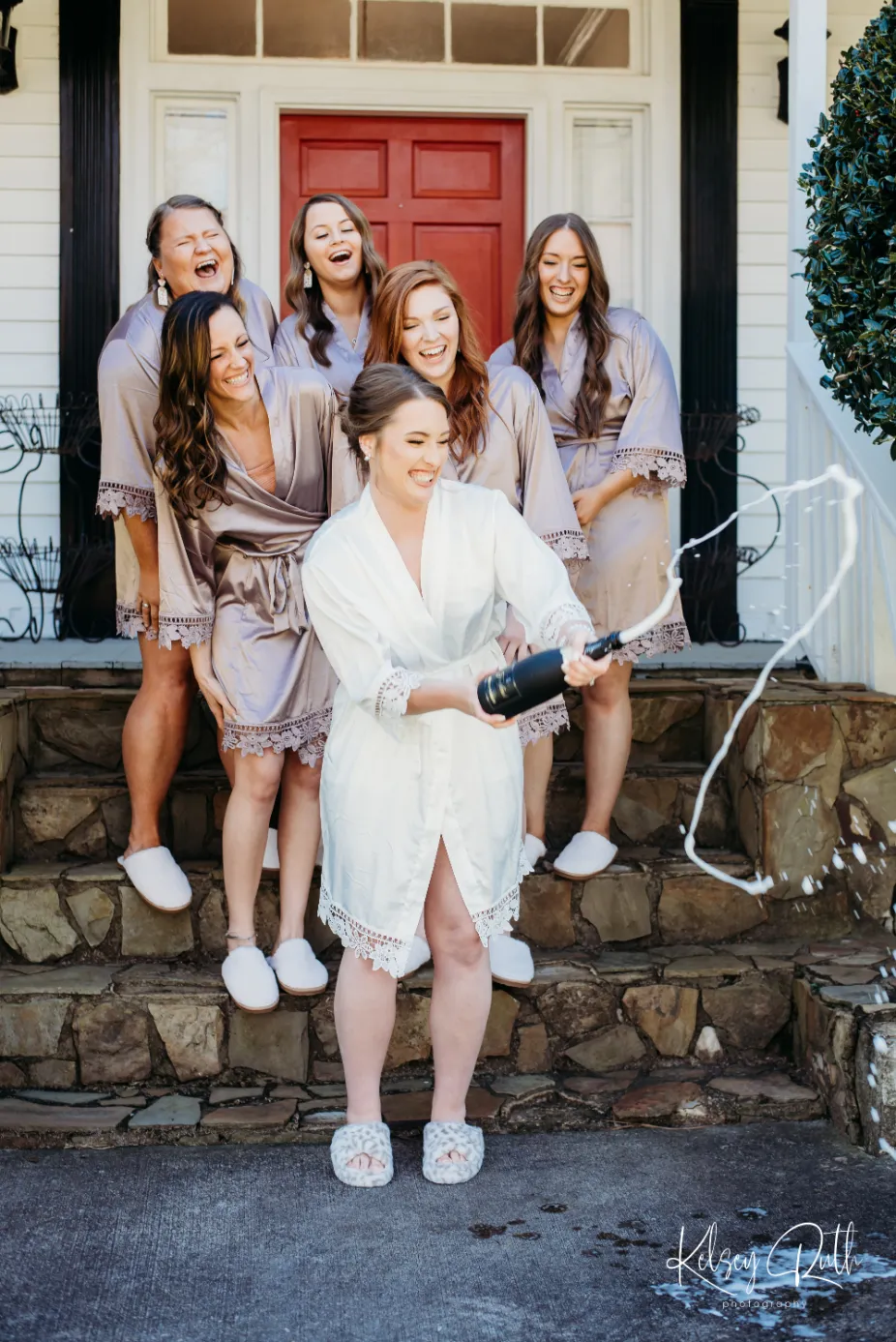 Picture-Perfect Ceremony:
Experience a picturesque ceremony on a peninsula surrounded by a stunning six-acre lake, creating a truly magical backdrop.
Delight in the enchanting glow of our chandelier and carefully arranged ceremony lighting.
Adorned with lush ferns and vibrant seasonal plants, each of the 21 columns will create a breathtaking backdrop for your ceremony.
Let our in-house DJ services set the perfect ambiance for your ceremony, ensuring every moment is accompanied by the right music.
Enjoy the elegance of our ceremony seating, draped beautifully to create a captivating atmosphere.
Quench your guests' thirst with our convenient water station.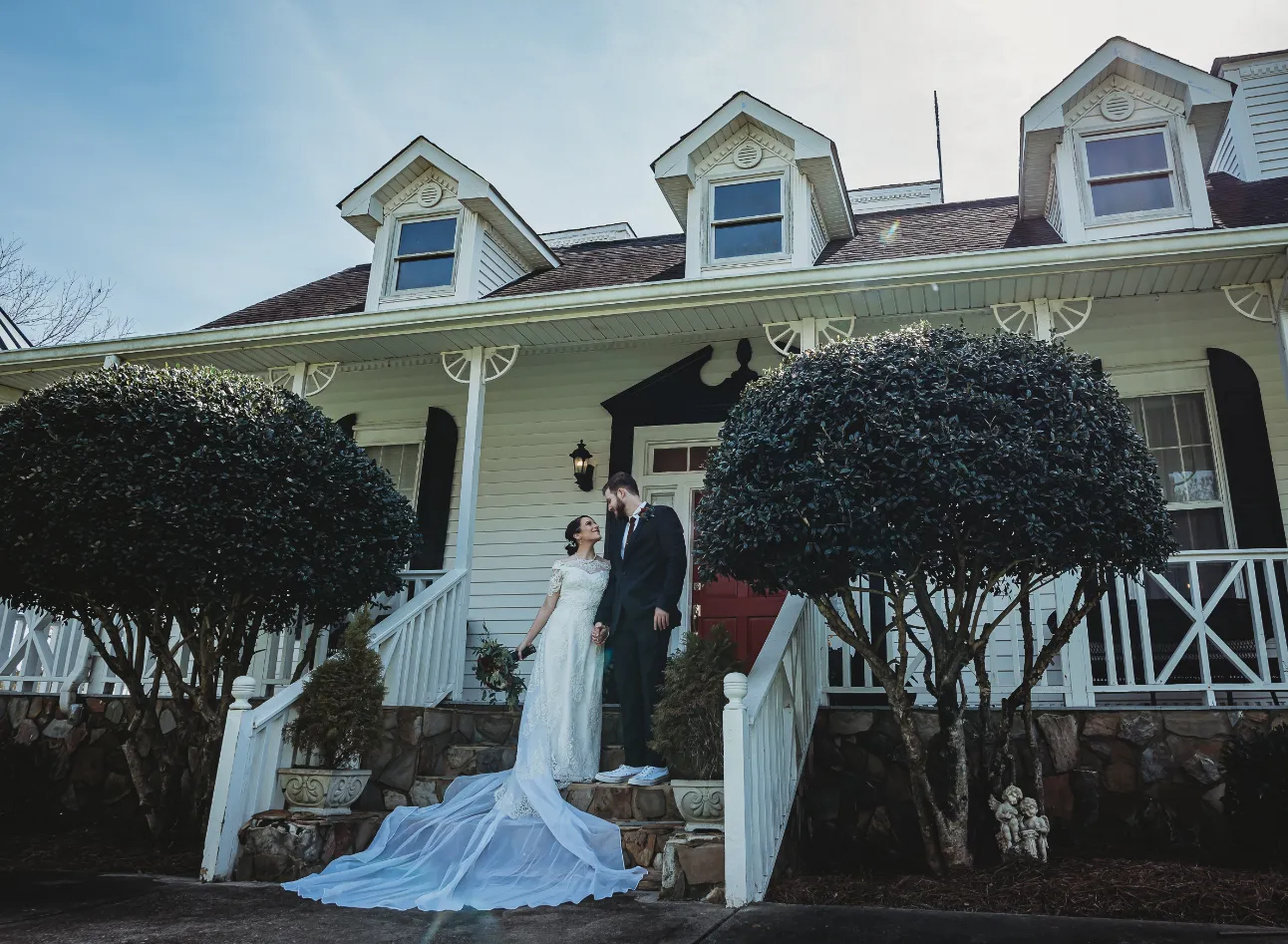 Flexible Indoor/Outdoor Reception:
Enjoy the best of both worlds with our flexible indoor/outdoor reception space, featuring a covered area for comfort and convenience.
Savor a delectable culinary experience with our in-house catering, offering three customizable menus that include meat, two sides, rolls, and salad.
Keep the celebration going with our in-house DJ services, ensuring a lively and unforgettable reception atmosphere.
Experience stylish dining with our round reception tables, adorned with various linen colors to match your desired aesthetic.
Enhance the tablescapes with our exquisite centerpieces, adding a touch of elegance to each table.
Feel like royalty at the sweetheart table with beautiful linen to create a romantic focal point.
Sit back and relax in our comfortable White Chiavari chairs, offering both style and comfort to your guests.
Showcase your wedding cake with our dedicated cake tables, elegantly draped with linen to create a focal point.
Create a designated area for gifts with our gift table, complete with linen to match your chosen color scheme.
Additional tables are available at no extra cost, allowing you to personalize your reception space with tables for favors, memory displays, and more.
Let us cut the cake with our complimentary service, so you can focus on enjoying the celebration.
Stress-Free Planning and Preparation:
Unlimited planning meetings with our in-house director to bring your vision to life.
Our professional director will guide you through your rehearsal and ensure everything runs smoothly on your big day.
Our director will be present all day at your wedding to ensure the timeline is adhered to and everything is running smoothly.
Begin your special day in style with a dedicated Bridal Suite featuring a private bath, salon stations with salon chairs, and ample space for your wedding attire.
The Groom's Suite offers a private retreat with its own bathroom, ensuring the wedding couple has a comfortable space to prepare.
Store your dresses and tuxedos securely in our conveniently provided closets in each room.
Stay refreshed and energized with complimentary soft drinks, bottled water, and light snacks in each dressing room.
Keep the little ones entertained in our adorable playroom with a TV and DVD player.
We take care of all the setup and cleanup so you can relax.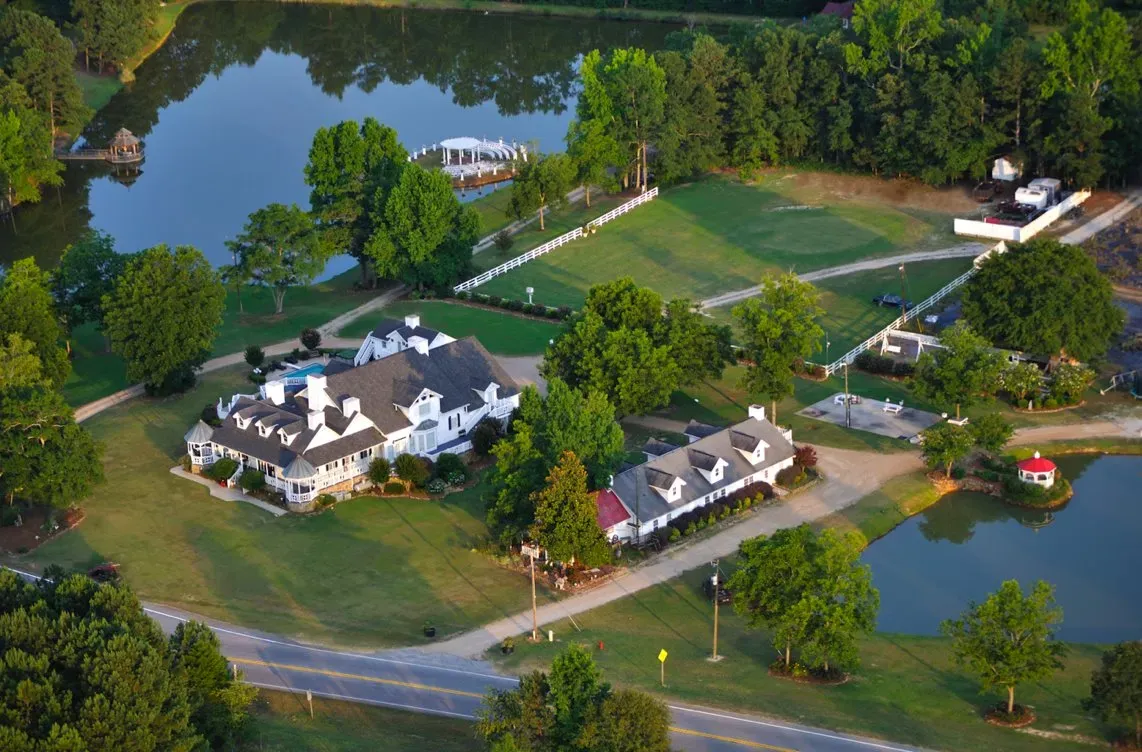 Additional Amenities:
Enjoy a refreshing dip or lounge by the swimming pool, offering you and your guests a relaxing escape.
Our attentive parking attendants and golf cart services ensure seamless transportation for guests and bridal parties.
BYOB: Enjoy a well-stocked bar area featuring woodgrain coolers for beer and ice while you can provide your own alcohol and party essentials.
Additional items for use at no additional charge: Make your gift card collection seamless with our decorative box or custom standing birdcage. Add a touch of charm to your décor with our easels, vintage/rustic crates, and wagon.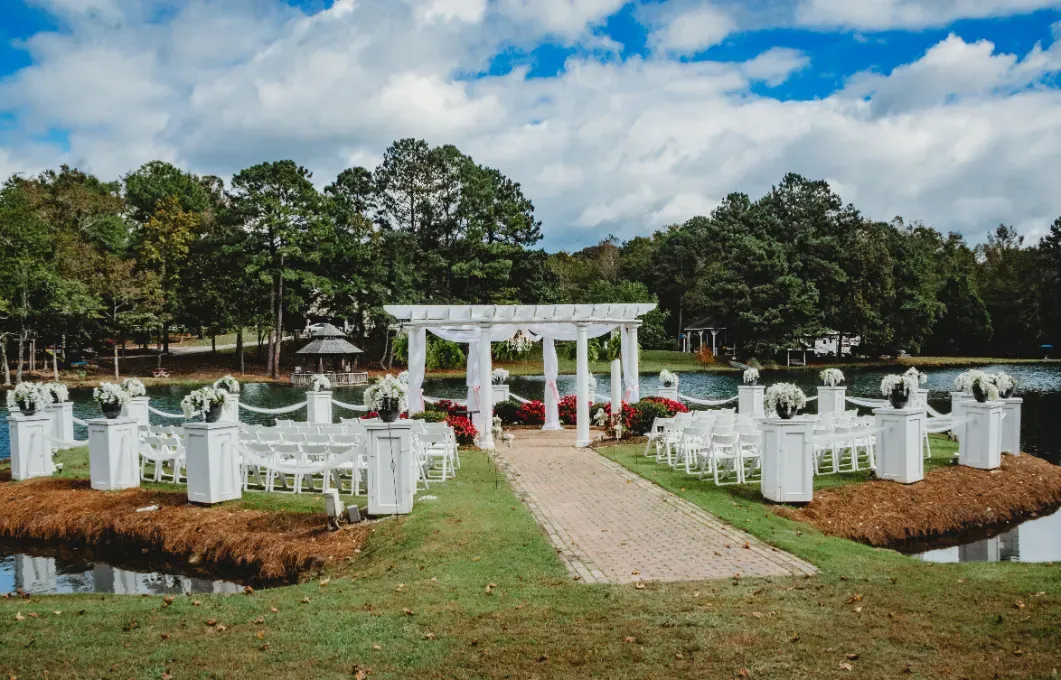 Experience a wedding venue that combines natural beauty, impeccable service, and convenient amenities. Your special day will be magical with our enchanting ceremony space, flexible reception area, stress-free planning, and additional amenities. Let us create an unforgettable experience for you and your guests.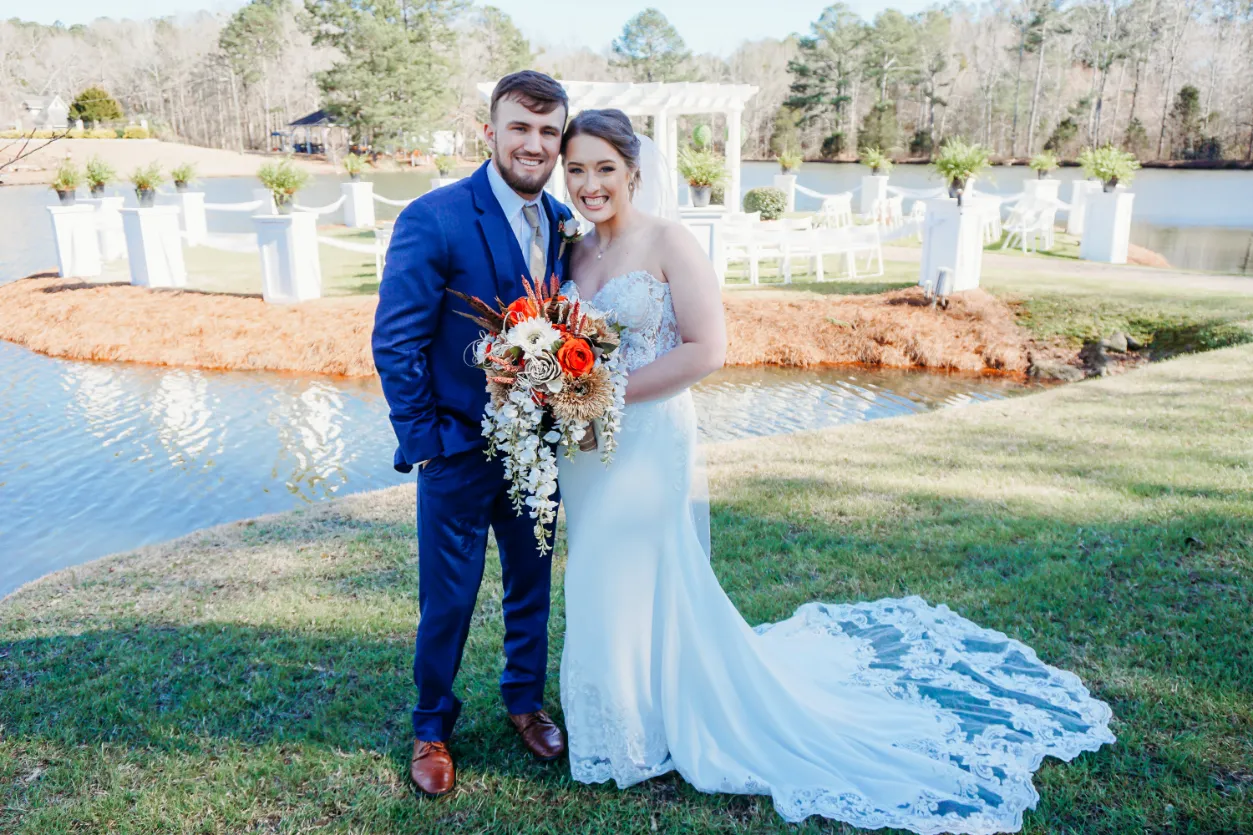 2. Emerson at Plum
Address: 543 Plum St, Macon, GA 31201
Introducing the Emerson at Plum Ballroom, a premier wedding venue in Macon, Georgia. Prepare to be mesmerized by its exquisite features and unparalleled amenities:
Experience the grandeur of an expansive 8,000 sq. ft. event venue meticulously designed to perfection.
Accommodate up to 225 seated guests or host up to 300 guests for cocktail-style events, ensuring ample space for your celebration.
Indulge in the luxury of our thoughtfully designed Bridal and Groom's Suites, providing a lavish setting for pre-wedding preparations.
Enjoy exclusive access to the venue from 8 AM to 12 AM, allowing for a seamless and memorable event.
Delight in the enchanting ambiance of our spacious courtyard, adorned with captivating cafe lighting for a magical atmosphere.
Take advantage of the convenience offered by our large off-street parking lot, available for rental to accommodate your guests.
Ensure comfort and accessibility for all attendees with our fully handicap accessible facilities.
Benefit from the built-in stage, perfect for showcasing live bands, DJs, or creating an impressive focal point with a head table.
Luxuriate in the elegance of our Mahogany Chiavari chairs with ivory cushions (190 in total), complemented by 20 exquisite 60-inch round tables and 5 versatile high-top cocktail tables.
Admire the sophistication of the ceiling draping, enhancing the venue's ambiance and adding a touch of refined beauty.
Enjoy the convenience of a built-in bar and a well-equipped warming kitchen, providing seamless catering options.
Discover a wide range of catering and bar choices, allowing you to curate a menu that delights every palate.
At the Emerson at Plum Ballroom, couples have an exceptional wedding experience. The venue's unmatched features and impeccable service make your dream wedding a reality. Step into a world of elegance and create everlasting memories in this stunning venue.
3. Macon Marriott City Center
Address: 240 Coliseum Dr, Macon, GA 31217
The Macon Marriott City Center is a charming and majestic hotel wedding venue at 240 Coliseum Dr in Macon, Georgia. The venue can accommodate up to 220 seated guests and offers 10,000 square feet of event space, including the Magnolia Ballroom and the Grand Salon Room.
All-inclusive packages are available, and clients can customize them to their specifications. The venue boasts in-house catering and beverage services from industry professionals and audiovisual equipment. The Macon Marriott City Center best suits couples seeking a sophisticated and elegant wedding.
4. Healy Point Country Club
Experience Timeless Elegance at Healy Point Country Club
Immerse yourself in the enchanting beauty of Healy Point Country Club, an exquisite wedding venue nestled in the heart of Macon, Georgia. Discover a captivating panoramic view of the picturesque lake and sprawling golf course, creating an idyllic backdrop for your special day. With its seamless blend of classic indoor charm and stunning outdoor vistas, this venue sets the stage for a sophisticated wedding celebration.
Unparalleled Setting and Capacity
Indulge in the grandeur of the Lounge, a captivating indoor space boasting a warm fireplace and panoramic views of the meticulously manicured golf course. Alternatively, choose the Lakeview Room, where breathtaking views of the tranquil lake and rolling greens create an awe-inspiring ambiance. Healy Point Country Club can accommodate up to 300 guests, with dining rooms available for intimate gatherings, ensuring no one misses out on this extraordinary experience.
Comprehensive Services to Exceed Expectations
At Healy Point Country Club, their dedicated and professional staff are committed to making your wedding day truly exceptional. Benefit from their expertise and unwavering support as they assist with event planning, setup, and cleanup, ensuring every detail is flawlessly executed. Embrace the convenience of their all-inclusive packages and the flexibility to work with outside vendors to bring your unique vision to life.
Gourmet Delights and Culinary Excellence
Savor a culinary journey curated by Healy Point Country Club's esteemed chefs. Indulge in a delectable array of cuisine styles, including American, Caribbean, Indian, Italian, Latin American, Mediterranean, Mexican, and Southern flavors. Let your taste buds dance with delight as each dish is crafted to perfection, reflecting the culinary excellence that defines this extraordinary venue.
Unforgettable Amenities for an Unforgettable Day
Healy Point Country Club goes above and beyond to ensure your ceremony and reception are truly unforgettable. Choose from a selection of elegant altar/arches and enjoy the convenience of audio equipment to amplify your vows. Revel in the comfort of stylish chairs with covers, dance the night away on a spacious dancefloor, and gather with loved ones at exquisitely adorned tables.
Unparalleled Location and Surroundings
Nestled near Club Lake in Macon, Georgia, Healy Point Country Club offers a serene and convenient location for your wedding festivities. Bask in the tranquility of the surroundings and relish the ease of access for you and your guests.
At Healy Point Country Club, every moment is thoughtfully designed to create an unforgettable wedding experience. From the breathtaking views to the impeccable service, indulge in the luxury and charm that define this extraordinary venue. Let the captivating ambiance and picturesque surroundings set the stage for a truly magical celebration of your love.
5. Library Ballroom
Address: 652 Mulberry St, Macon, GA 31201
Introducing The Library Ballroom: A Historic Haven for Unforgettable Celebrations
Step into The Library Ballroom's rich history and undeniable allure, a truly unique wedding venue located in the heart of Macon, Georgia. Originally built in the late 19th century as the city's first public library, this downtown landmark has been transformed into a captivating space for weddings and special events. Immerse yourself in the elegant ambiance of the 45-foot wooden cathedral ceiling, original hardwood floors, warm mahogany and cherry wood finishes, and vibrant stained glass windows.
Enchanting Spaces for Unforgettable Moments
Discover a range of exquisite indoor rooms at The Library Ballroom, offering the perfect setting for wedding ceremonies, receptions, rehearsal dinners, engagement parties, and more. The highlight is the 2,200-square-foot ballroom, exuding warmth and inviting charm. With flexible layouts, it can accommodate up to 175 seated guests or 225 for a cocktail-style reception. For an intimate gathering, indulge in the cozy elegance of the "Ladies" Reading Room, complete with a stunning fireplace, cherry wood furnishings, a 50″ plasma TV, and a full sound system. Additional spaces include a downstairs foyer, prep kitchen, and lavish bathrooms, ensuring every aspect of your celebration is meticulously catered to.
Unparalleled Services for a Flawless Experience
The dedicated staff at The Library Ballroom is committed to providing exceptional service and ensuring your event is nothing short of perfection. From answering your inquiries to offering valuable vendor recommendations, they are here to guide you every step of the way. Choose from customizable packages that include essential services such as rentals, getting-ready rooms, setup, cleanup, and even an elevator for convenient accessibility. Rest assured, this historic property is fully handicap accessible, accommodating all guests easily. Additional services offered include microphones, limited free parking, security guard or fire marshal assistance, sound systems, video projectors, wireless internet, and the presence of on-site event staff.
Culinary Excellence and Beverage Options
The Library Ballroom embraces your vision by allowing you to bring in your preferred licensed and insured caterer. A prep kitchen is readily available to facilitate seamless meal preparation. As for beverages, you can arrange outside alcohol service, provided that you obtain a Special Event/Liquor Liability Insurance policy, ensuring a worry-free celebration. Please note that kegs and BYOB are not permitted, and self-service of alcohol is not allowed.
Unwind in Luxury
Indulge in a truly unique wedding experience at The Library Ballroom's exquisite bridal suite. This luxurious accommodation offers all the necessary amenities to unwind and prepare for your big day. Spend the night as a couple, and let the suite become your private oasis. It's the perfect place to relax, prepare, and savor the anticipation before exchanging vows.
A Glimpse into History
Immerse yourself in the fascinating history of The Library Ballroom, a cherished icon in Macon, Georgia. Originally designed by D.B. Woodruff, it served as the city's first public library from the late 19th century until the 1920s.
In the 1960s and 1970s, it gained fame as the College Discotheque, hosting The Allman Brothers' first paid gig.
After years of dormancy, the venue faced the threat of demolition in the 1990s but was lovingly restored to its former glory through extensive renovations.
Recognizing its significance, The Library Ballroom was added to the National Register of Historic Places in 2007, solidifying its status as a cherished piece of local heritage.
At The Library Ballroom, your wedding becomes a captivating journey through time, combining historic grandeur with modern elegance. Immerse yourself in the unique charm, services, and surroundings that define this iconic venue. Allow the echoes of the past to enhance your future as you create treasured memories that will last a lifetime.
FAQs
What are the best wedding venues in Macon, GA?
The Blacksmith Shop: This historic venue offers a charming rustic setting with exposed brick walls, wooden beams, and vintage details. The industrial-chic ambiance creates a unique backdrop for weddings.
The Estate at Stone Creek: Nestled among picturesque gardens and lush greenery, this elegant estate provides a serene and romantic wedding atmosphere. The beautifully landscaped grounds and stunning architecture offer a truly enchanting experience.
The Grand Magnolia House: With its majestic columns, sweeping staircase, and spacious veranda, this antebellum-style mansion exudes Southern charm and elegance. The venue's scenic grounds and breathtaking interiors make it perfect for a classic and sophisticated wedding.
The Library Ballroom: Housed in a historic library building, this venue showcases stunning architectural details, including a 45-foot wooden cathedral ceiling and stained glass windows. The rich history and timeless elegance create a captivating backdrop for memorable weddings.
Healy Point Country Club: Situated amidst a picturesque lake and golf course, this country club offers a scenic setting for outdoor ceremonies and receptions. The indoor spaces, including a banquet hall and lounge, provide a sophisticated celebration ambiance.
Emerson at Plum Ballroom: This spacious event venue boasts a stunning 8,000 sq. ft. area, accommodating up to 300 guests. Its flexible indoor/outdoor reception space, beautiful courtyard, and convenient amenities offer a versatile and stylish wedding setting.
The Venue at Tryphena's Garden: Surrounded by 35 acres of lush gardens and tranquil ponds, this venue provides a romantic and serene backdrop for outdoor weddings. The venue offers various outdoor ceremony locations and a spacious reception hall with modern amenities.
The Mill at Gray: Set within a restored historic mill, this venue showcases rustic charm and modern amenities. The industrial-chic event space offers exposed brick walls, large windows, and a spacious courtyard, creating a unique and stylish atmosphere.
What type of wedding receptions can be held in Macon, GA?
Macon, GA, offers a variety of wedding reception options suitable for different tastes and preferences. Couples can choose from banquet halls, historic venues, country clubs, restaurants, and waterfronts. The Blacksmith Shop is a perfect industrial chic venue in the historic downtown area of Macon, GA, with a hosting hall accommodating up to 300 guests. The courtyard and manicured gardens offer ideal cocktails and fresh air space. Barns and farms are also popular in Macon, GA, and offer a rustic and charming atmosphere with a scenic view of the countryside. Hotels, country clubs, and mansions offer a more luxurious and elegant vibe, suitable for larger weddings. Rooftops and lofts provide a unique and modern backdrop for a city wedding, while churches and temples offer a traditional and religious setting. Couples can also opt for museums, boats, and parks, among other options, depending on their preferences and budget.
What is the cost for renting The Farley Estate?
Our all-inclusive package starts at 8,500 for 50 guests.
Are there outdoor wedding venues in Macon, GA?
Yes, there are several outdoor wedding venues in Macon, GA. Three options are the Estate at Stone Creek, the Library Ballroom, and the Venue at Tryphena's Garden. The Estate at Stone Creek offers a beautiful outdoor ceremony space surrounded by lush gardens and a covered patio for the reception. The Library Ballroom has a stunning outdoor terrace with views of downtown Macon, perfect for a romantic ceremony or cocktail hour. The Venue at Tryphena's Garden boasts a picturesque garden setting with a rustic barn and pergola for the ceremony and reception.
Are there barn wedding venues in Macon, GA?
There are several barn wedding venues available in Macon, GA. One such venue is The Barn at Big Oak, located just outside of Macon in the town of Juliette. The Barn at Big Oak is a rustic and elegant venue featuring a fully restored barn with a spacious indoor area, an outdoor ceremony site, and beautiful landscaping. The barn can accommodate up to 200 guests and offers a bridal suite and groom's room for getting ready. Another option is The Horse Stamp Inn, located about an hour south of Macon in Waverly, GA. This venue features a beautiful barn with a loft area for the ceremony and reception and several outdoor spaces for photo opportunities and cocktail hour. The Horse Stamp Inn also offers accommodations for up to 24 guests in luxurious rooms and suites.
Are there ballroom wedding venues in Macon, GA?
Yes, there are ballroom wedding venues in Macon, GA. Notable venues include the Rosewood Ballroom, which can accommodate 125 seated guests and features a covered portico, dance floor, stage space, and a stained glass skylight overhead. Another option is the Library Ballroom, which can host up to 175 seated guests with 45-foot cathedral ceilings made of wood and all-inclusive packages combining multiple services under one roof.
What are the nearest towns and cities to Macon GA?
City/Town
Warner Robins
Milledgeville
Perry
Forsyth
Gray
Eatonton
Dublin
Byron
Jeffersonville
Centerville
Gordon
Barnesville
Monticello
Cochran
Hawkinsville
Fort Valley
Sandersville
Eastman
McRae-Helena
Reynolds
Roberta
Jackson
Tennille
Wrightsville
Gordon
Milan
Irwinton
Danville
Oglethorpe
Lizella
Good Luck with your Venue Search!
When searching for the perfect wedding venue in Macon, GA, it's essential to approach the process with kindness, consideration, and heartfelt intentions. Consider your budget, guest count, and preferred style or theme, and begin by creating a list of potential venues. Conduct thorough research, exploring online reviews, availability, and amenities, and consider visiting venues in person to experience their atmosphere truly. Make a pros and cons list, ask questions, and don't hesitate to negotiate pricing or packages. Remember to factor in additional vendors that some venues may require. With careful planning and heartfelt dedication, you will discover a wedding venue that meets your needs, creating cherished memories for you and your guests.